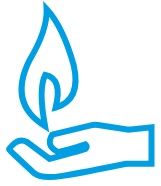 Qualified gas plumber for boiler servicing, installation or extension of your existing gas service to accommodate your new water heater, space heater, cooker, BBQ or house extension or renovation. Walkley Plumbing & Gas services are available for all your gas servicing needs and members of Master Plumbers of South Australia will provide you professional service and value for money.
Boiler Servicing
All boilers should be serviced and inspected annually by a certified and qualified engineer. Not only will regular servicing of boilers help prevent failures and leaks, keeping you and your family safe, but it can also aid the lifespan of your appliance. With benefits of risk of breakdowns and helping saving money on monthly costs and bills.
A typical boiler service can include:
Removal and cleaning of boiler casing as well as seals inspected for integrity to ensure adequate sealing
Boiler fired up to check and idenitfy working and faulty parts
A check to ensure your boiler and flue meet current safety standards
All main boiler components checked (burner, heat exchanger, main injector, spark/sensor probe)
Safety checks of flue terminals are unobstructed and internal flue components are sealed properly
Main heat exchanger and boiler parts cleaned
To ensure effienct combusting of boiler, gas valve and combusted readings checked and adjusted where required.
Gas working pressure test
As well as providing you with a professional service Walkley Plumbing can assist you with repairs and replacement parts and will always be fair on prices.
Give us a call today on 0439 082 966 or email us at enquiries@walkleyplumbing.com.au
Gas engineer and boiler service